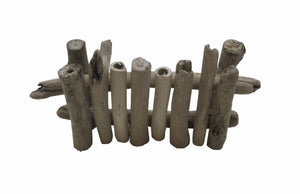 These are actually free standing and do stand on their own without needing to be propped against anything. Makes a rustic looking gate, even a raft in a sensory tray.
Measures 15 x 8cm per fence
We recommend adult supervision at all times and children above 3 (three). Not suitable for children who put things in their mouth as they can pose a choking hazard. Ensure before each use item is checked for wear and tear and discarded if damaged. Do not leave immersed in water.
Connecting play with nature.