It's Potion Play Time - let's get exploring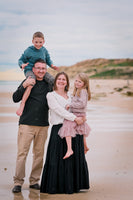 Who Is Feather and Leaf Co?
This is us! This is my beautiful family of 4 plus a very old Border Collie and a naughty Ragdoll kitten. I started Feather and Leaf Co. in 2020 as the season of being a stay at home mum was drawing to its end with both of our children heading off to school, sadly for me.
I've done a variety of things in my life from a chef course, dressmaking course, a variety of retail jobs and helping to manage a furniture store. Ive always had a job that involves helping people or at least providing them with a product. I spent countless hours making things as a child and back in the 80's there certainly wasn't the incredible Craft kits we have available on our shelves at Feather and Leaf Co.
I have a huge passion for supporting small business and supporting Australian made as I wish to see jobs available for our children in the future. Im also a lover for seeing our environment being cared for. And like every Mum and Dad that I speak to we have more than our fair share of plastic toys adorning our shelves that no longer get played with. I call these the two minute toys.