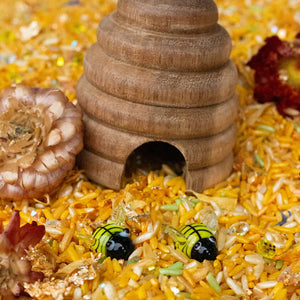 You just stumbled upon your little loves' thing of dreams!
We've gone the extra mile to create the ultimate sensory play tray fill to keep their little hands busy, delight on their faces, and minds full of wonder! Our Curated Merriment is a mishmash of awe-inspiring goodness, from glimmering eco glimmering glitter to mesmerizing crystals, the daintiest little shells, the most beautifully coloured iridescent rice, and so much more!
So let's fill your Busy Bee Tray and watch those merrymaking moments bloom.
Psst. YES! Those adorable flowers, crystal eggs, moon, and stars are all included in this perfectly Curated Merriment; roll on the good times!
SENSORY BENEFITS 
All those tiny, brightly coloured textures hold the key to happy vibes and much more! Sensory rice play offers many educational and developmental benefits; fine and gross motor skills, hand-eye coordination, focus, engagement, and problem-solving. It's also a marvelous invitation to promote language development through exploratory play and social interaction.
• Focus + Concentration
• Investigation + reasoning
• Hand-eye coordination + control
• Causal effect
• Language development
• Spatial awareness
FINER DETAILS
• Composition: Rice, Non-Toxic iridescent pigment, natural crystals, eco resin rhinestones, eco glimmering glitter, dried flowers
• Features: Mesmerising iridescent rice, dried flowers, crystal eggs, moon and stars
• Impact: Non-Toxic + 100% Bio-degradable 
• Dimensions Bag: W 17cm H 24cm D 8cm 
• Weight: 750g
 CARE
• Store: Keep in a cool, dry place within your Busy Bee Tray, the resealable airtight bag provided, or any airtight container.
• Expiration: Cared for and stored as suggested, your Curated Merriment will last you years!
• Disposal: Our Curated Merriment is non-toxic and 100% bio-degradable. When it's time, it is OK to dispose of it in your garden for the fungi to have a feast!
• Important Disposal Announcement: Do not dispose of your Curated Merriment, down sinks, or toilets! It's not fun having to call a plumber.
SAFETY
• Recommended Age: 3+
• Note: Curated Merriment may pose a choking hazard; vigilance is always required. Not suitable for our littlest loves 0-3 or those that like to put things in their mouth. Yes, it is non-toxic, but our Curated Merriment is not intended for human consumption and would taste awful!
📸: @gusandmabel.co @1_2_3_play_with_me
Connecting play with nature