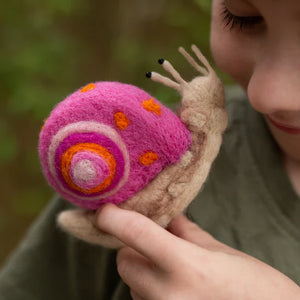 If you're looking for something delightful to bring a smile to your little one's face, look no further than our Endearing Felt Friends. These charming pocket-sized cuties will bring only happy vibes to your child's world.
Their small size and BIG personalities make them the perfect companion to snuggle with during story time and the ideal sidekick for every small-world play adventure.
Meet charming Limino...
Limino is so cute and always happy, with a bubbly personality that matches his colour pink and yellow-toned shell. Despite his magical abilities, he's not the fastest snail in the fairy garden and can sometimes be a bit clumsy. However, his presence comforts those around him, and he has a knack for making others feel safe and never alone. Limino's fun-loving nature makes him a joy to be around and a true friend to all who know him.
SENSORY BENEFITS 
Children strengthen their social skills by playing with our Endearing Felt Friends. Caring for their little friends will teach them to be kind and nurturing. Interacting with our Endearing Felt Friends prepares our little loves for interacting with people in the big wild world. Small-world play is a wondrous child-led sensory activity that encourages exploration and experimentation. They'll delight in acting out real-life scenarios, helping them practice social skills, building language, and understanding how things work. Nurture your little loves' imagination while assisting them in attaining a beautiful sense of who they are and where they might belong in the world. Small-world play is an invaluable kinaesthetic-tactile learning adventure.
• Focus + Concentration
• Investigation + reasoning
• Emotional development
• Hand-eye coordination + control
• Self-confidence
• Causal effect
• Language development
• Spatial awareness
• Process: Lovingly and ethically hand-felted by our beautiful artisans, no two pieces are exactly alike
• Material: 100% New Zealand Wool
• Impact: 100% natural, renewable and biodegradable
• Colours: Non-toxic azo-free dye
• Dimensions: H 8cm D 3cm W 10.5cm
• Weight: 17g
• Features: Vibrant colours + charming character
• Note: Wool is 100% natural, renewable and biodegradable; a fabulous environmentally positive fibre. The wool used in our felt creations has been sourced 100% from New Zealand, where ethically, much high animal welfare standards are in place.
CARE
Wool is self-cleaning; the keratin in wool breaks down bad-smelling bacteria, so a simple spot clean + airing out is sufficient upkeep for all our felt creations. Now, if your little one has had a blast and their collection has endured some messy play, it's easy to have them looking good as new;
• Fill a basin with lukewarm water and disperse some wool or baby shampoo. Allow your pieces to soak for 10 minutes before rinsing them under running lukewarm water followed by cold; place on a towel, cover, and gently press to release any excess water. Please place them in the shade, away from direct sunlight, and voila! Not only will they look fabulous, but they'll smell amazing, too, simple!
SAFETY
• Recommended Age: 3+
• Note: Our entire felt range has been meticulously crafted to ensure the highest quality goods are produced; we want only a safe and happy experience for you and your little loves. Small pieces that complete some of our designs may pose a choking hazard; vigilance is always required. Not suitable for our littlest loves 0-3 or those that like to put things in their mouth. Yes, our felt is non-toxic, but felt pieces are not intended for human consumption and would taste awful!
📸: @gusandmabel.co
Connecting play with nature