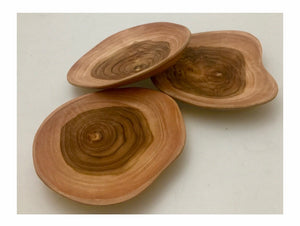 These plates are shaped naturally by Mother Nature and are all different. Sizes vary but are about 16-20cm diameter. Each piece is unique, making them a perfect conversation piece. These pieces bring a hint of natural beauty to your play.
 RANDOMLY SELECTED - picture is an example only not what you will receive 
We recommend adult supervision at all times and children above 3 (three). Not suitable for children who put things in their mouth as they can pose a choking hazard. Ensure before each use item is checked for wear and tear and discarded if damaged. Do not leave immersed in water.
Connecting play with nature.