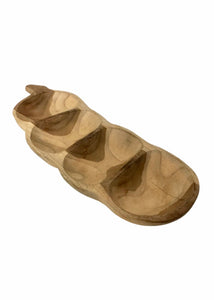 Crafted from Suar wood, this tamarind-shaped bowl features four sections. Utilize it for imaginative play, décor or food—it's up to you! To keep it looking great, rub it with either coconut or olive oil. Alternatively, you can find food-safe oil at any hardware store.
We recommend adult supervision at all times and children above 3 (three). Not suitable for children who put things in their mouth as they can pose a choking hazard. Ensure before each use item is checked for wear and tear and discarded if damaged. Do not leave immersed in water.
Connecting play with nature.