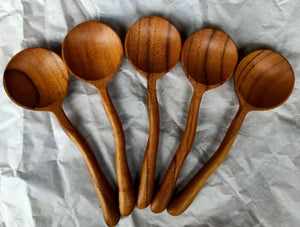 Made from teak timber and full of life with its beautiful grain what a unique addition to your tea party, potion play or sensory tray.
Perfect for potion play - rinse with water and wipe dry with a soft cloth to prolong the life of your tool.
Measurements:   13cm long 4cm wide (approximately)
We recommend adult supervision at all times and children above 3 (three). Not suitable for children who put things in their mouth as they can pose a choking hazard. Ensure before each use item is checked for wear and tear and discarded if damaged. Do not leave immersed in water.
Connecting play with nature.