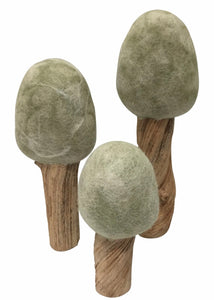 A beautiful addition to your small worlds with so much texture from the wool felt tops to the tree trunk made from real wood.
The trunks are made from real wood, hence they will all be different! Wood is a living material that keeps changing, contracting and expanding with different ambient temperatures and humidity levels. The wood may or may not be cracked or crack along the natural lines in the wood. This is natural! We can not control this in any way and we see this as an added special feature of this product. I like to think of any cracks that the trunk is smiling at you sideways. 


Trees all very in height large approximately 28cm medium approximately 22cm small approximately 16cm 
We recommend adult supervision at all times and children above 3 (three). Not suitable for children who put things in their mouth as they can pose a choking hazard. Ensure before each use item is checked for wear and tear and discarded if damaged. Do not leave immersed in water.
Connecting play with nature.