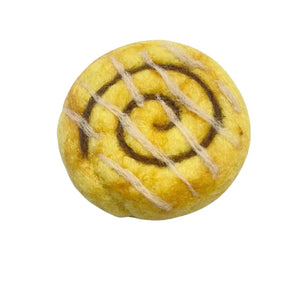 Our hand felted cinnamon scrolls are an adorable addition to your childs toy kitchen or bakery! Sold as a set of 2 these cinnamon scrolls are sure to inspire a lot of funfilled pretend baking, cooking & playing. Hand felted in nepal by a team of artisans using naturally dyed new zealand sheep's wool. 

Size 8cm x 8cm x 2cm
Recommended age: 3+ years. Warning. May contain small parts that pose a choking hazard. Parent supervision required at all times.
Accessories not included.
Photos by: @petitfelttreats
Connecting play with nature.