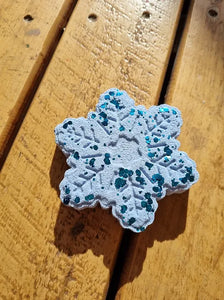 Potion Fizzers are the ideal addition to your child's potion play. Consider these as party favours or incorporate into your little ones magical play.
Ingredients Sodium Bicarb, Citric Acid, Mica Powder, Bio-glitter
IMPORTANT: Our potion play is recommended for children aged 3+. Our potion bottles are made from strong glass and adult supervision is advised.
Non-toxic ingredients are not for consumption.
Avoid contact with eyes. Solutions may irritate small cuts or scratches on skin. If contact occurs, rinse with cool water immediately.
Cauldrons and play accessories sold separately.
This kit contains small parts which may be a choking hazard for kids under the age of 3. Please take care around small children. 
Adults may be required to help read instruction card and we encourange this involement.
Weighs approximately 97g
(Note: Due to being handmade, weights may vary)
📸: @potion_playground
Connecting play with nature.