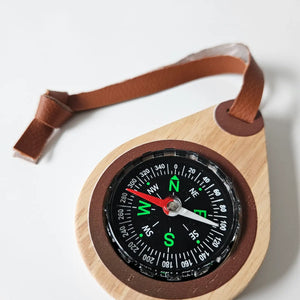 Unleash the spirit of adventure and ignite boundless imagination with our wooden compass for children's imaginative play! Crafted to inspire young explorers, this beautifully designed compass opens the door to a world of make-believe journeys and exciting quests.
The intricately carved wooden details adds a touch of authenticity to every adventure, making it the perfect companion for young dreamers. Whether navigating through enchanted forests, crossing treacherous oceans, or discovering hidden treasures, this wooden compass encourages storytelling, cognitive development, and hours of engaging play. Watch as children build confidence, nurture their creativity, and dive into a realm where imagination knows no bounds.
Equip your little adventurer with the tool of the explorers of old, and let their imagination guide them to extraordinary worlds filled with wonder and excitement.
Recommended age: 3+
Made in Vietnam
Photos by : @Qtoysaustralia
Connecting play with nature.